Lamps are important elements when you want to create a personal and atmospheric interior. With Twice from House Doctor, you get a beautiful ceiling lamp with an elegant and fine expression. The lamp has a beautiful asymmetrical design that adds charisma and versatility to the interior. With its brass details, the lamp has an incredibly fine expression that is both raw and classic at the same time. It can be used in most rooms in the home - let your imagination run wild. Use it at the entrance, over the dining table, or in a corner of the living room and create a wonderful and unique glow in the interior. This product is handmade, which means that some variation in color, size, and shape may occur.
Specifications:
Cord length: 2.30 m.
Dimensions: 70x47 cm.
Material: Glass, metal.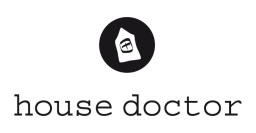 The Danish family business House Doctor was started in 2001 by the creative siblings Rikke Juhl Jensen, Gitte Juhl Capel, and Klaus Juhl Pedersen. In the assortment, you will find products that make your home elegant, inspiring and personal.
View all products from this brand