Enjoy tasty coffee the same way it is prepared in Italy. Tradition meets innovation - the classic Moka kettle from Italian Bialetti upgraded with double metal layers gives the best of both worlds. The cooker's outer steel layer means that it also works on induction, while the inner aluminum layer guarantees homogeneous heat distribution. Makes 4 espresso-sized cups.
Specifications:
For 4 cups.
Hand wash only without detergent.
Volume: 150 ml.
Materials: Aluminium, plastic.
For induction.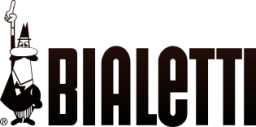 In a small village in Italy, Alfonso Bialetti opened a workshop for the manufacture of aluminum semi-finished products. The company quickly grew to become Alfonso Bialetti & Co. A foundry in Conchiglia: a workshop for the study, design and creation of finished, ready-to-sell products. That was the beginning of the classic coffee makers from Bialetti.
View all products from this brand