The smaller version of the Blaze lantern from House Doctor adds a timeless aesthetic to your home with its black color and minimalist design. This lantern in iron and glass is made by hand and creates a special feeling with minor but intentional flaws that give the design charm. To make the light even softer, the sides of the glass have a matte finish. Place this lantern in your hall to give your guests a warm welcome, or use it in the living room for cozy evenings. Whether you use it separately or combine it with the larger versions, the Blaze lantern creates a warm and inviting atmosphere.
Specifications:
Material: Iron, glass.
Dimensions: 15x15x25 cm.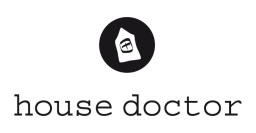 The Danish family business House Doctor was started in 2001 by the creative siblings Rikke Juhl Jensen, Gitte Juhl Capel, and Klaus Juhl Pedersen. In the assortment, you will find products that make your home elegant, inspiring and personal.
View all products from this brand