Add a vibrant touch to your garden or terrace with this outdoor planter from House Doctor. It is called Terra and comes with a green, reactive glaze with minor imperfections in the finish. However, this is done on purpose as it adds a down to earth feel to the design. Your outdoor space is instantly elevated with a timeless with this planter that blends in with the greenery in your garden. Place it together with planters in the same material or use a mix of materials, textures and colours to create a unique spot for your favourite plants. Also available in a smaller version. The planter can withstand temperatures down to -20C and comes with drainage holes at the bottom. Due to the nature of the reactive glaze, the colour and finish of this planter may vary. That is a natural feature and part of the craftsmanship behind the handmade design.
Specifications:
Material: Earthenware.
Dimensions: H 45, ø 40 cm.
Color: Green.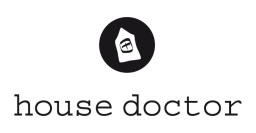 The Danish family business House Doctor was started in 2001 by the creative siblings Rikke Juhl Jensen, Gitte Juhl Capel, and Klaus Juhl Pedersen. In the assortment, you will find products that make your home elegant, inspiring and personal.
View all products from this brand