Amicus & Cook Set Combo is an ideal choice for camping and backpacking. The set includes lighter and two pans of hard-anodized aluminum for cooking. Small saucepan holds 500 ml, large saucepan holds 1000 ml.
Output: 2600 kcal/h 3030w 10210 BTUDuration
Burns approx 1.5 hours with 8 oz (250g) canister.
Gas tank not included.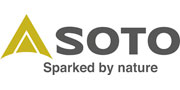 Japansk teknologi, der er sikker, - bruger- og miljøvenlig! Som de selv ville sige, er de "Sparked by natur".
Gå til varemærket