The SOTO Navigator Cook Set is an all in one camp cooking set with everything you need to make a full meal. Navigator Cook Set is a lightweight aluminium set with two pots, both over 1 L capacity so you can cater for two campers. The set includes a Navi Cozy, which keeps food hot up to six times longer, and the Navi Duo Handle attaches easily to both pots for secure handling, while doubling up as a pair of tongs too.
Specifications:
Total Dims when stowed: Diameter 191 x Height 104 mm.
Total Weight: 480 g.
Weight Large Pot: 155 g.
Dimensions Large Pot: OD 19 x H7.8 cm (1.8 L Capacity).
Weight Small Pot: 114 g.
Dimensions Small Pot: OD 16 x H7.3 cm (1.3 L Capacity).
Duo handle stow bag for easy storage and transport of the set.
Multi-functional lid that can be used as a cutting board.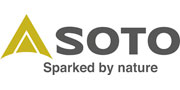 Japansk teknologi, der er sikker, - bruger- og miljøvenlig! Som de selv ville sige, er de "Sparked by natur".
Gå til varemærket