Ultra Vest 5 is the All-Round vest that guarantees that you get everything you need on your next run.
It has very good capacity and is designed for drinking systems on the back (fluid bladder with a hose) and bottles on the front of the chest. The vest comes with 2 Body Bottle ™ II 500 ml. The total capacity is 10.8 liters and you have space for drinks, energy, mobile phone, camera, poles, extra clothes, etc. MicroMono mesh with 4-way stretch minimizes the risk of friction and irritation on exposed areas such as shoulders, neck, and around the ribs.
Specifications:
2 Body Bottle ™ II 500 ml included.
Compatible with drinking systems/liquid bubbles up to 2 liters (not included).
Total capacity: 10.8 liters.
Secured volume: 7 liters (secured with zipper).
Unsecured volume: 3.8 liters (pockets with stretch without zipper).
Weight with bottles: 250 grams.
Weight without bottles: 180 grams.
Comfort Cinch ™ 2.0 - more minimal, lightweight, and adjustable. For an optimal fit.
Compression hooks.
Lightweight T-Hooks for adjusting the chest straps.
Straps for rods ensure that they are not in the way and do not shake.
Front storage for drinks, energy, electronics, etc.
Front pockets with stretch are phone compatible.
Shaped shoulder straps for good weight distribution and comfortable fit.
Lightweight 4-way stretch with a rip-stop pattern for increased durability.
Small weatherproof pocket on the shoulder strap.
Size guide:
Measure the circumference at the lower rib.
SM: 58 - 81 cm.
MD: 76 - 99 cm.
LG: 94 - 117 cm.
Take measurements with the clothes you probably use together with the running vest.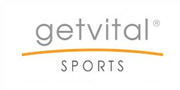 Getvital er et mærke inden for udendørs tøj, sko og rygsække. Som mange andre mærker inden for udendørs liv er Getvital rettet mod dem, der elsker eventyr og udfordringer.
Gå til varemærket