Margrethe set with mixing bowls from Rosti in sizes 2 and 3 liters with associated lids. The mottled Pebble colors give the iconic Margrethe bowl an exciting expression with a matte exterior that contrasts with the shiny interior. The bowl is ideal for cooking and serving. With a lid, the bowl becomes a practical storage bowl.

Specifications:
Margrethe bowl set 2-pack.
Bowls including lids.
Contents: 2 + ​​3 liters.
Material: Melamine plastic.
Color: Pebble black.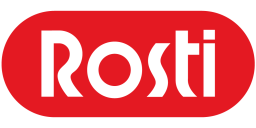 Rosti Mepal has Scandinavian roots as Rosti was originally a Danish company, founded in 1944. The Dutch Mepal was founded by Egon Wolff in 1950. Rosti Mepal is known for its high quality, excellent design and functionality and that they stay up-to-date in its range.
View all products from this brand