How you present the food is important. It is actually said that you eat with your eyes. The Pion dinner plate from House Doctor is a porcelain installation whose reflective glaze shows off your dishes in a beautiful and appetizing way. The unique look of the plate is created with a substance that reacts to the process when the ceramic is fired. The substance reacts with the glaze and creates a unique, oxidized surface.
Specifications:
Size: h: 3.5 cm, diameter: 28.5 cm.
Color: Black/brown.
Units: 12.
Material: Stoneware.
Washing instructions: Approved for dishwasher, Approved for microwave.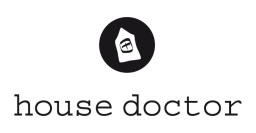 The Danish family business House Doctor was started in 2001 by the creative siblings Rikke Juhl Jensen, Gitte Juhl Capel, and Klaus Juhl Pedersen. In the assortment, you will find products that make your home elegant, inspiring and personal.
View all products from this brand