In the oval Staub cocotte you can make delicious stews of all kinds, such as hearty goulashes or French specialities, for example. These types of pots were specifically developed in France for slowly casseroling food. They allow the flavours to develop fully and so intensify the taste of ingredients.
The cooking pot is made of cast iron, which ensures particularly uniform heat distribution and retention. It is also enamelled inside, which reinforces the excellent stewing properties of cast iron. This enamel is matt black in colour and is a pleasant contrast to the graphite grey pattern on the outside. So, you can use the cocotte to serve at the table. It has several advantages: As well as looking good, food remains hot for a long time.
The cocotte is suitable for any kind of hob, including induction cookers. You can also use it in the oven for recipes with longer cooking times. It has a width of 29 cm, a height of 15 cm and holds 4.2 litres.
Ideal for searing and slow cooking of roasts and whole chickens.
Juicy and tender cooking result thanks to the lid's special drip structure.
The matt black inner enamelling is ideal for particularly crisp searing and is especially durable.
Suitable for all types of hobs, incl. induction, can also be used in the oven/grill.
Long rim measurement 29cm.
Long base measurement 24.4cm.
Capacity 4.2 litres.
Serves 4 people.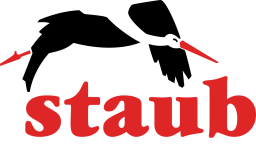 Staub originates from France, or more precisely, from Alsace, a French region famous worldwide for its culinary tradition and good food. Staub specialises in cast iron and ceramic cookware for home cooks and professionals alike, who are looking for an authentic and emotional cooking and taste experience.
View all products from this brand