A juicy roast is not just a culinary delight on Sundays. Whether it's a meat, fish or vegetable casserole, you will be able to create fine dishes easily and safely in this Staub Cocotte.
The Cocotte is a cast iron roasting pan which you can use for the gentle preparation of various dishes. Thanks to its classic design with embossed logo and a silver knob, this cocotte is cookware in which you can serve your meals in style at the table.
The cocotte has a diameter of 24 cm, or 30 cm including the handles. With the lid, the Staub casserole is 15 cm tall. It has a capacity of 3.8 litres.
The cast iron cocotte is coated on the inside with matte black enamel. This gives food a great braised flavour and enhances the natural taste of fresh ingredients. The Cocotte itself stores heat and releases it slowly. Your food stays hot for a long time, even on the table.
Cast-iron Staub cookware is suitable for preparing a variety of dishes. The cherry-red Cocotte will be stylishly eye-catching on your table and will complement your cookware as a functional, robust and easy-care casserole dish that you are sure to use on many occasions.
Ideal for searing and slow cooking of meat, fish or vegetables.
Juicy and tender cooking result thanks to the lid's special drip structure.
The matt black inner enamelling is ideal for particularly crisp searing and is especially durable.
Suitable for all types of hobs, incl. induction, can also be used in the oven/grill.
Rim diameter 24cm.
Base diameter 19.2cm.
Capacity 3.8 litres.
Serves 4 people.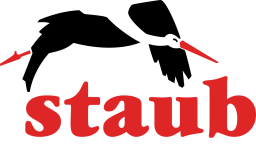 Staub originates from France, or more precisely, from Alsace, a French region famous worldwide for its culinary tradition and good food. Staub specialises in cast iron and ceramic cookware for home cooks and professionals alike, who are looking for an authentic and emotional cooking and taste experience.
View all products from this brand